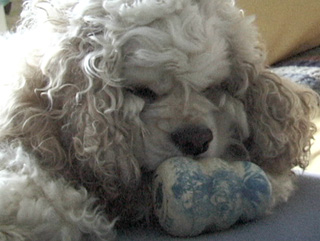 This is my ball and don't you forget that Jack the cat!
My ball is my favorite toy in the whole world. It is a pretty blue colour like my collar and it makes funny sounds when I roll it on the floor. I love to play with it when I eat my food. Sometimes it tries to steal some of my delicious dog chow and I bark at it to try and scare it away.
Wahtee plays ball with me but if she won't play with me I put it under the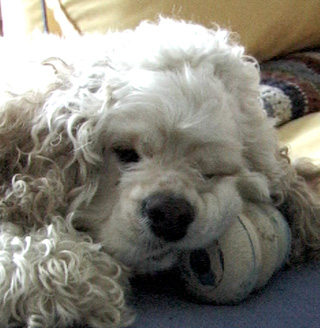 furniture and bark and bark and bark until she gets it for me. I have other toys like the garden gloves I stole from Wahtee and the kool leather work gloves I took from Papa's tool chest but my ball is still my favorite.
I take my ball everywhere. I always take it to bed at night and sometimes I even use it as pillow.
More pictures behind the bone